The Thank a Teacher program is a Center for the Advancement of Teaching initiative designed to acknowledge teachers (both WFU faculty and staff) who have made a difference in your education.
As a student, this is your opportunity to let your teacher know that their efforts are recognized and appreciated.
You fill out this form and we take care of everything else! Your note is sent to the person you are thanking at the end of the semester.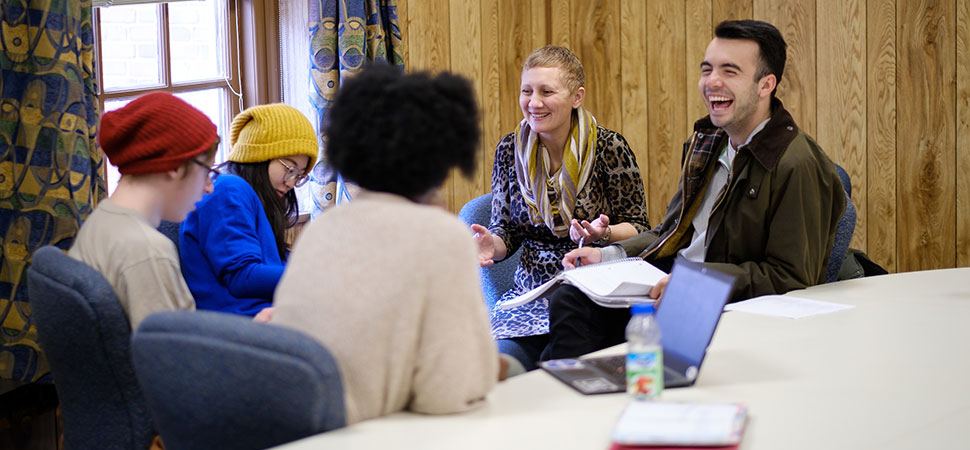 George Aldhizer
Lucy Alford
Edward Allen
Justin Allman
Sarra Alqahtani
Tony Amoruso
Paul Anderson
Elizabeth Anthony
Diana Arnett
Hunter Bachman
Tonya Balan
Tara Baldrick-Morrone
Jonathan Barker
Beverly Barrett
Cliff Barrett
Ken Bechtel
Lina Benabdallah
Justin Bennett
Derrick Boone Sr.
Shannon Brady
Ann Brooks
Chris Brown
Christy Buchanan
Presian Burroughs
John Butler
Leni Caldwell
Alan Cameron
Jonathan Cardi
Becca Chase
Xijinyan Chen
Samuel Cho
Philip Clarke
Tricia Clayton
Carolyn Coberly
Dan Cohen
Veronica Cole
William Crowe
Mary Dalton
Nicole Dalzell
Timothy Davis
Aditya Devarakonda
Crystal Dixon
Ron Doyle
Katharine Duckworth
Ted Eaves
Andrea Echeverria
Malaika Edwards
Elizabeth Ellis
Sean Ervin
Margaret Ewalt
Mark Fields
Tobias Flattery
Steven Folmar
Louis Foreman
Allison Forti
Norman Fraley
Megan Francisco
Jerid Francom
Cherie Fu
Elizabeth Gandolfo
Matthew Garite
Ellen Gelbin
John Gemmer
Scott Geyer
Michelle Ghoston
Beth Mabe Gianopulos
Brenda Gibson
Steven Giles
Annalise Glauz-Todrank
Stavroula Glezakos
Laura Graham
Heather Gram
Cate Gray
Heath Greene
Amy Grybush
Raina Haque
Susan Harlan
Dan Harris
Hannah Harrison
Zachary Hayes
Kenny Herbst
Jefferson Holdridge
Woody Hood
Emily Huang
Joanne Inkman
Mark Johnson
Amanda Jones
Tiffany Judy
Kevin Jung
Adam Kadlac
Peter Kairoff
Michael Kamtman
Charles Kennedy
Rowie Kirby-Straker
John Knox
Danielle Koupf
Marream Krollos
Jayati Lal
Melissa Larsen
Derek Lee
Allison Levene
Thad Lewallen
Jia Li
John Llewellyn
Aaron Longo
Pat Lord
Mary Susan Lucas
Denis Maier
Barry Maine
Martin Malloy
Coco Mann
Justin Martin
EJ Masicampo
Kathryn Mayers
Grant McAllister
Jonathan Mcelderry
Todd McFall
Patrick McMullen
Christopher Meazell
Liliana Mendoza Batista
Steve Messier
Sol Miguel-Prendes
Whitney Milhouse
Christian MIller
Lauren Miller
Peter Mitchell
Eleanor Morales
Sherry Moss
Laura Mullen
Ellen Murphy
Stephen Murphy
David Naff
Jody Nash
Steve Nickles
Scotti Norman
Monique OConnell
Tolulope Oke
Samanta Ordóñez-Robles
Atif Osmani
Leann Pace
Stratos Pahis
Alan Palmiter
Wilson Parker
Gregory Parks
Ajay Patel
Kathryn Pegram
Carmen Perez-Muñoz
Jon Pinder
Nate Plageman
Greg Pool
Jenny Pyke
Tanisha Ramachandran
Sarah Raynor
Megan Regan
Allison Rice
Michael Rizzo
Michael Roberts
David Robertson
Brad Roehrenbeck
Randall Rogan
Jennifer Rogers
Simone Rose
Jeremy Rouse
Jean Anne Semke
John Senior
Samuel Shapiro
Mengmeng Shi
Whitney Simpson
Micheal Sloan
John Wayne Smith
Stephen Smith
Melissa Snapp
Joseph Soares
Thomas Southerland
Farren Stackhouse
Cody Stevens
John Sumanth
Yasuko Takata-Rallings
Ian Taplin
Margaret Taylor
Cynthia Tessien
Rebecca Thomas
Stan Thomas
Bruce Thompson
Silvia Tiboni-Craft
John Tomlinson
Sarah Vavredge
Ana-Maria Wahl
Amy Wallis
Leigh Watson
Andrew Wells
John Welsh
Robert Whaples
Elisabeth Whitehead
Reid Whitten
Cade Wiley
Tess Wise
Guy Wizel
Nick Wolters
Boston Woolfolk
Miller Wright
Ronald Wright
Kim Yalango
Qiaona Yu
Yaqi Yuan
Ali Zeytoon-Nejad
Qiong Zhang
Cathy Zizzi
Erin Adamson
Irma Alarcón
Jane Albrecht
George Aldhizer
Tom Aleman
Rebecca Alexander
Kate Allman
Jack Amoureux
Paul Anderson
Kendra Andrews
Elizabeth Anthony
Diana Arnett
Miriam Ashley-Ross
Emily Austin
Stephen Baker
Duff Baker-Jarvis
Tara Baldrick-Morrone
Wanda Balzano
Tracey Banks
Phillip Batten
Douglas Beets
Jack Bell
Kenneth Berenhaut
Catalina Betancourt
Uli Bierbach
John Billos
Ana Blesso
Lynn Book
Derrick Boone
Meghan Boone
Abbey Bourdon
William Boyce
Anne Boyle
Shannon Brady
Saylor Breckenridge
Pete Brewer
Angela Brooks-Livingston
Stephanie Bunch
Jennifer Burg
Stephen Calabrese
Leni Caldwell
Alan Cameron
Emily Campbell
Mollie Rose Canzona
Daniel Castelblanco
Tony Chambers
Jessica Chandras
Frederick Chen
Anna Cianci
Jennifer Claggett
Philip Clarke
Elizabeth Clendinning
Carolyn Coberly
Veronica Cole
Christa Colyer
Jamie Crockett
William Crowe
Jay Curley
Aisha Dad
Merih Danali
Brook Davis
Jonathan Dellinger
Yitbarek Demesie
Joe DeVera
Wendu Ding
Jonathan Dixon
Jonathan Duchac
Katherine Duckworth
Roger Echols
Malaika Edwards
Bryan Ellis
Elizabeth Ellis
Nikki Elston
Keri Epps
Anne Erickson
Rachel Ernst
Justin Esarey
Sarah Esstman
Mark Evans
Mary Foskett
Norman Fraley
Karin Friederic
Steve Friedland
Joy Gambill
Meghan Gangel
Matthew Garite
Amanda Gengler
Cagney Gentry
Scott Geyer
Beth Gianopulos
Brenda Gibson
Rebecca Gill
Samuel Gladding
Stavroula Glezakos
Luke Gloeckner
Luis Gonzalez
Michael Green
Brad Grider
Marissa Griggs
Martin Guthold
Leigh-Anne Hallberg
Catherine Hammack-Aviran
Melissa Harris-Perry
Seth Hayden
Zachary Hayes
Staci Hepler
Chris Hitch
Sarah Hogan
Ken Hoglund
Esther Hong
Alejandro Hortal
Philip Howard
Mari Ishida
Nathaniel Ivers
Steve Jarrett
Justin Jennings
Dan Johnson
Mark Johnson
Amanda Jones
Paul Jones
Amol Joshi
Kevin Jung
Ryan Juskus
Michael Kamtman
John Karabelas
Jeff Katula
Rayed Khedher
Allison Kim
Ben King
Molly Knight
Christopher Knott
Susan Langlitz
Melissa Larsen
Amy Lather
Derek Lee
Jeff Lerner
Zachary Letterhos
Allison Levene
Qing Liu
John Llewellyn
Pat Lord
Allan Louden
John Lukesh
John MacDonald
Melissa Maffeo
Corinne Mann
Charles Mansfield
EJ Masicampo
Sarah Mason
Todd McFall
Veronique McNelly
Chris Meazell
Stan Meiburg
Christian Miller
Gary Miller
Lauren Miller
Ananda Mitra
Norma Montague
Frank Moore
Sarah Moore
Rebekah Morris
Sherry Moss
Ellen Murphy
Bahati Mutisya
David Naff
Bob Nations
Lynn Neal
Steve Nickles
Monique O'Connell
John Oksanish
Morna O'Neill
Samanta Ordóñez
Espen Oswald
Elizabeth Pacheco Rose
Alan Palmiter
Sarah Parsons
Ajay Patel
James Pease
Stephanie Pellet
Abigail Perdue
Carmen Pérez Muñoz
David Phillips
Matthew Phillips
Michael Pisapia
Luca Provenzano
Rajan Puri
Jenny Pyke
Ellen Quinlan
Megan Regan
Mostafa Rezapour
Allison Rice
Catherine Riley
Al Rives
Michael Rizzo
Michael Roberts
Jennifer Rogers
Jake Ruddiman
Susan Rupp
Alisa Russell
Ali Sakkal
Anthony Sali
Randi Saloman
Teresa Sanhueza
Richard Schneider
Katherine Shaner
Maggie Sheridan
Whitney Simpson
Leah Sink-Haynes
Michael Sloan
Jonathan Smart
Stephen Smith
Jeff Solomon
Thomas Southerland
Siddharth Srikanth
Michelle Steward
Brian Tague
Yasuko Takata
Paul Thacker
Rebecca Thomas
Silvia Tiboni-Craft
Patrick Toner
Barry Trachtenberg
Esra Kadioglu Urtis
Christine Vega
Jessica Shade Venegas
José Villalba
Amanda Vincent
Ana-Maria Wahl
Corey D.B. Walker
Amy Wallis
Neal Walls
Shannon Warden
Andrew Wells
Helga Welsh
John Welsh
Robert Whaples
Jarrod Whitaker
Paul Whitener
Jack Wilkerson
Jim Willis
Stephen Winter
Tess Wise
Nick Wolters
Boston Woolfolk
David Wren
Miller Wright
Abbie Wrights
Brittany Wyche
Ya-wen Yang
Kanako Yao
Mir Yarfitz
Barry Yeoman
Brian Young
Alex Yu
Fanyi Zeng
Ali Zeytoon-Nejad
Qiong Zhang