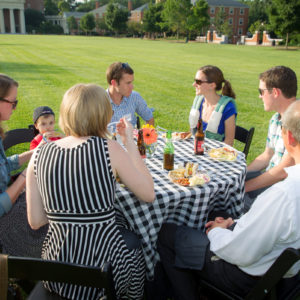 New Faculty Orientation
The Center for the Advancement of Teaching is one of many offices involved in New Faculty Orientation. New Faculty Orientation runs across three days and the sessions will introduce you to campus folkways and various sources of support for your vital research/creative work and teaching. You will also learn more about our close-knit WFU community; meet new and veteran faculty and administrative colleagues; and, if experience is any guide, begin to develop new friendships.
Teaching Boot Camp for Graduate Students
Each fall, the CAT offers a "boot camp" style teaching series for new graduate students designed to help prepare them to teach. The event lasts for 1.5 days. Participants will take part in a variety of activities, such as workshops and microteaching.
For Fall 2021, the Boot Camp is scheduled on Tuesday, August 17 from 9:00-5:00 and Wednesday, August 18 from 10:00-12:00. If you would like your TAs to participate, please be sure not to schedule other department activities during these times.
View the complete Fall 2021 agenda here
Registration is required to participate in the program. We ask that you register by August 9 so we have time to find facilitators for the microteaching sessions.
Register for Fall 2021 Teaching Boot Camp here
If you are interested in learning more about this event, please contact Kristi Verbeke at verbekkj@nullwfu.edu.