Ungrading: Why Rating Students Undermines Learning (and What to Do Instead)
Meets three times this fall (10/5, 10/19 & 11/2)  from 12:30-1:30 in ZSR 665 (Faculty Commons Classroom)
The moment is right for critical reflection on what has been assumed to be a core part of schooling. In Ungrading (Blum, 2020), fifteen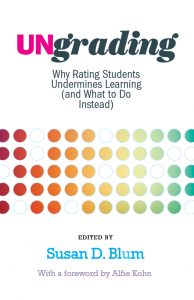 educators write about their diverse experiences going gradeless. Some contributors are new to the practice and some have been engaging in it for decades. Some are in humanities and social sciences, some in STEM fields. Some are in higher education, but some are the K–12 pioneers who led the way. Based on rigorous and replicated research, this is the first book to show why and how faculty who wish to focus on learning, rather than sorting or judging, might proceed. It includes honest reflection on what makes ungrading challenging, and testimonials about what makes it transformative. Let's meet and discuss the potential for ungrading in our own courses.
Relationship-Rich Education: How Human Connections Drive Success in College
Meets three times this fall (10/21, 11/4 & 11/18) from 3:30-4:30 in ZSR 665 (Faculty Commons Classroom)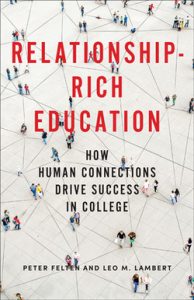 Decades of research demonstrate the transformative potential and the lasting legacies of a relationship-rich college experience. In Relationship-Rich Education, Felten and Lambert (2020) demonstrate that for relationships to be central in undergraduate education, colleges and universities do not require immense resources, privileged students, or specially qualified faculty and staff. All students learn best in an environment characterized by high expectation and high support, and all faculty and staff can learn to teach and work in ways that enable relationship-based education. Drawing on nearly 400 interviews with students, faculty, and staff at 29 higher education institutions across the country, Relationship-Rich Education provides readers with practical advice on how they can develop and sustain powerful relationship-based learning in their own contexts.
We will provide the book and snacks for the first 12 registrants. These discussions are very popular so we ask that you register only if you are available to attend all sessions.
Register for the Relationship-Rich Education book discussion here
If you have suggestions for other books you think would be especially helpful for instructors, please submit them here