Infusing Critical Thinking Into Your Course: A Concrete, Practical Approach
Meets three times this semester (1/24, 2/7 & 2/21) on Tuesdays from 1-2pm in ZSR 665 (Faculty Commons Classroom)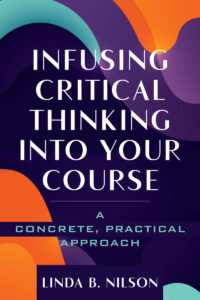 Critical thinking—every scholar in the literature has defined it, but there is no clearly agreed upon definition. Still, critical thinking keeps appearing in accreditation standards and surveys of the skills employers seek in college graduates.
Infusing Critical Thinking Into Your Course simplifies the concept of critical thinking, translates it into discipline-relevant course outcomes, and provides tangible teaching strategies and concrete assessment techniques.
---
The Impact of a Sense of Belonging in College: Implications for Student Persistence, Retention, and Success
Meets three times this semester (2/15, 3/15 & 4/12) on Wednesdays from 3:30-4:30pm in ZSR 665 (Faculty Commons Classroom)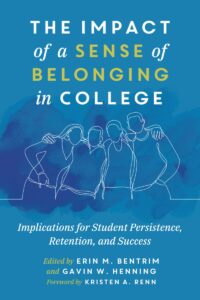 Although the construct of sense of belonging is complex and multilayered, a consistent theme across the chapters in this book is that the relationship between sense of belonging and intersectionality of identity cannot be ignored, and must be integrated into any approach to fostering belonging. The Impact of a Sense of Belonging in College serves as a compendium of research, applications, and approaches to the sense of belonging as a single point of reference in an emerging and promising field of study.
Let's meet and explore what belonging might look like in our context and ways that we might cultivate it with our students.
---
Deep Teaching in College (STEM) Classrooms
Meets 1 time this semester on Friday, February 17 from 1-2pm in ZSR 665 (Faculty Commons Classroom).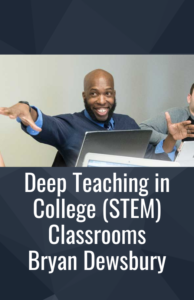 Join with CAT Associate Director Anita McCauley and your colleagues for this single-session reading group to read and discuss how "deep teaching" can help you create more inclusive classrooms and learning experiences for your students. Even though the papers focus on STEM classrooms, the topics and discussion are broadly applicable to all classrooms and all faculty are welcome to participate.
We will discuss two recent articles by Dr. Bryan Dewsbury in preparation for his visit to WFU in late February 2023. Dr. Dewsbury, Associate Professor of Biology and Associate Director of the STEM Transformation Institute at Florida International University, is a leader in educational research and faculty development in inclusive teaching. He is also the principal investigator of the Science Education and Society research program, which focuses on the social context of teaching and learning in a variety of education contexts. Readings will be shared with participants following their registration for the group.
If you have suggestions for other books you think would be especially helpful for instructors, please submit them here