If you are interested in reading more about teaching online, we have organized two reading groups for the summer. We hope you will join us!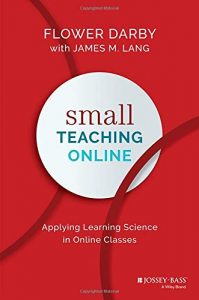 Meets weekly three times this summer on Wednesdays (6/10, 6/17, & 6/24) from 12-1.
This book offers small teaching strategies that will positively impact the online classroom and outlines practical and feasible applications of theoretical principles to help your online students learn. It includes current best practices around educational technologies, strategies to build community and collaboration, and minor changes you can make in your online teaching practice, small but impactful adjustments that result in significant learning gains.
We will provide the book for the first 35 registrants.
---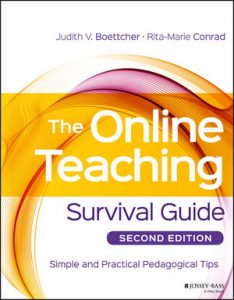 This book group will meet weekly three times this summer on Thursdays (6/25, 7/2, & 7/9) from 12-1.
With more and more classes being offered online, this book provides a valuable resource for taking your course to the next level.
Understand the technology used in online teaching
Learn specialized pedagogical tips and practices
Examine new research on cognition and learning
Adopt a clear framework of instructional strategies.
We will provide the book for the first 30 registrants.