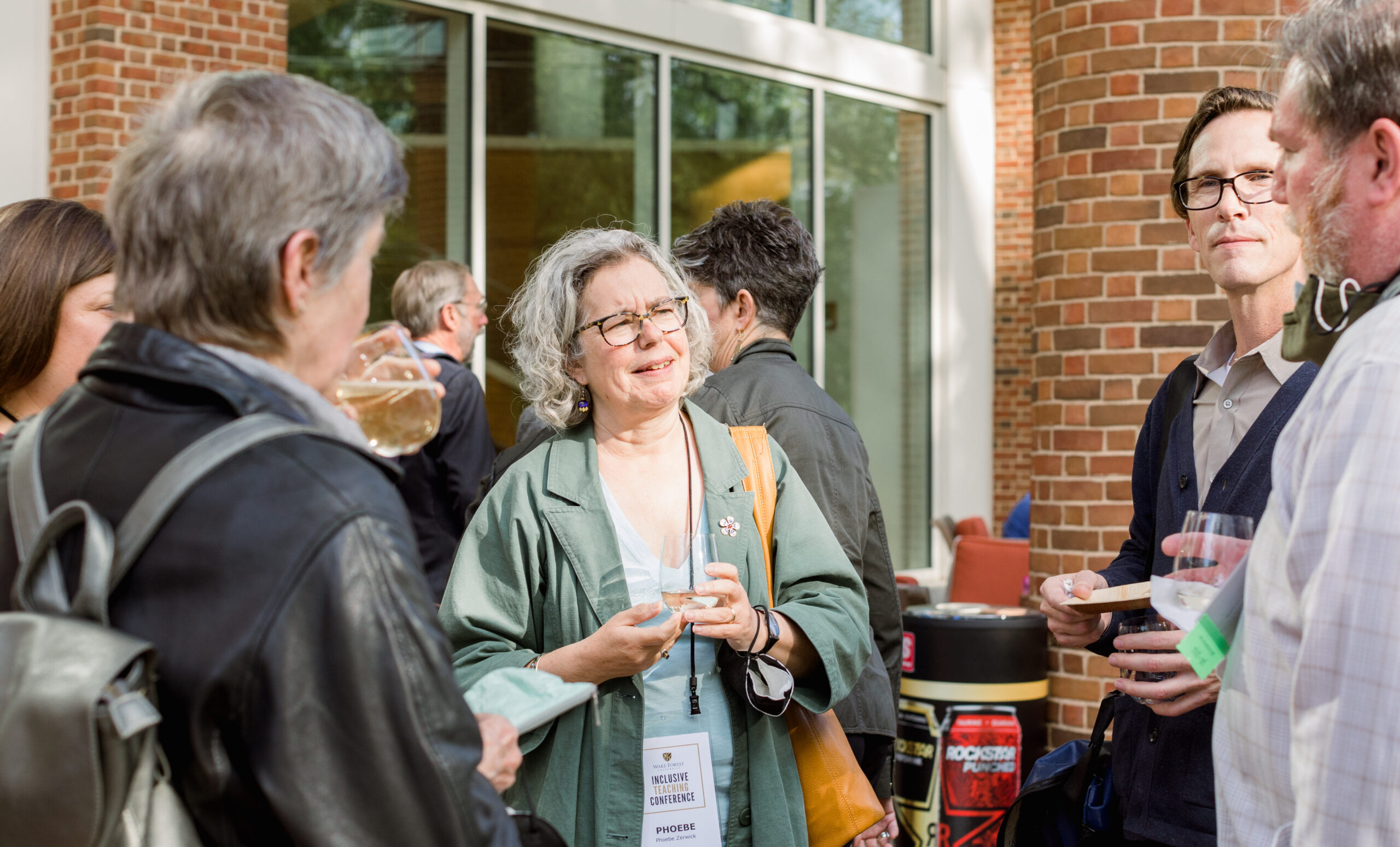 Overview
As funding allows, the CAT regularly conducts faculty learning communities. These communities bring together a group of 8-12 faculty members around a specific topic. Past communities focused on topics such as course design, curriculum assessment, eportfolios, study abroad, and language learning. Please be aware that we can only accept applicants into one learning community at a time, so If more than one learning community interests you we ask that you apply for the one that you think will best fit your goals and needs.
New! Pedagogy for Equity & Inclusion Faculty Learning Community
The Center for the Advancement of Teaching is now accepting applications from faculty interested in exploring ways to increase equity and inclusion in a class they are teaching in spring 2024. We welcome anyone with an interest to join the community (you can know a lot or know very little!). The Learning Community will be led by the CAT Director of Research, Dr. Karen Singer-Freeman. Membership in the Learning Community is capped at ten. Applications should be submitted by Tuesday, September 26 using this form. When considering applications, the CAT will aim at selecting a cohort from a variety of disciplinary backgrounds including faculty from our graduate and professional schools. Participants will receive a $1000 stipend from the Center for the Advancement of Teaching at the completion of the spring semester.
Interested in learning more before applying? Dr. Karen Singer-Freeman will be holding an informational webinar on Wednesday, September 27th from 3:30 – 5:00 pm. All are welcome!
Description
The Equity and Inclusion Learning Community supports faculty who are interested in examining areas of possible inequities in their current classes and planning pedagogical changes that support equity in grading or feelings of inclusion.
The group will meet four times in the fall, for a December retreat and four times in the spring:
Fall Meetings: Tuesdays, 3:30 – 5:00 pm on 10/3, 10/17, 11/14, and 12/5, ZSR Library Room 664 (in the Faculty Commons Suite, 6th floor, Wilson Wing). During the fall semester we will learn about research on inclusive pedagogical practices and examine the selected courses for areas of inequities. (We will provide support in gathering archival classroom data to examine inequities for those who are interested in this approach.)
Retreat: Monday December 18th 10:00 am – 2:00 pm. At our December retreat, participants will make plans for improvement in one course they will be teaching in the spring.
Spring Meetings: 4 meetings TBD by the group. During our spring meetings we will discuss challenges and opportunities encountered as participants try out new techniques, share successful materials, and evaluate the success of the planned changes.
Goals and Objectives:
The goals of this FLC are two-fold:
To develop faculty community and expertise in equitable and inclusive pedagogy
To increase the extent to which all students feel welcome and fairly treated in their classes
Participants will be expected to:
attend all scheduled meetings of the learning community
complete assigned readings before meetings
create a plan to try out at least one area to improve in a Spring 2024 class, and
evaluate the impact of the change on equity or inclusion in this class
produce a deliverable following the completion of the FLC. This deliverable could, but is not limited to, the following possibilities:

An annotated syllabus and reflection on the impact of the identified change; a publication in a disciplinary teaching journal; or a presentation at a conference (additional support is available for those who wish to publish or present at a conference)
Application Instructions
Please complete the information indicated below by filling out this form by Tuesday, September 26th. Applicants will be notified of a decision by email on Thursday, September 28th.
Provide a description of the course you would like to work on that you will be offering in Spring 2024.
Describe any known student demographics from previous times you have taught the course (or a similar course). This might include information about students' race and ethnicity, year in school, major, or any other information that is relevant to student equity and inclusion in the class.
Explain why you believe this course is a good place to try to increase equity or inclusion.
Provide a statement of your interests and reasons for seeking to be part of this faculty learning community.
Please note: Karen is happy to meet with you to discuss your ideas to assist you in preparing your proposal. You can reach her at singerk@wfu.edu
New Faculty Learning Communities
The Center for the Advancement of Teaching facilitates two learning communities for new faculty each year (one for permanent faculty and one for contingent faculty). Applications for the 2023-2024 New Faculty Learning Communities (NFLC) have now closed.
Each year-long NFLC is intended to support our colleagues who are new to the Wake Forest community. New faculty members in their first or second year at WFU are encouraged to apply (full-time, permanent faculty are invited to apply for the permanent group; visiting, postdoc, and adjunct faculty are invited to apply for the contingent group).
The program is designed to help you connect with the WFU community and also enhance your efficacy around your role as a new faculty member, with a strong emphasis on teaching. You will be supported in your efforts to establish community, networks, and connections across the WFU community; explore evidence-based practices to enhance your teaching; and engage in observations of your peers' teaching and reflective activities.
Participants will meet approximately every other week throughout the year with optional networking and social opportunities. Regular attendance at these gatherings is expected for all cohort members. To support this work, each participant will receive a $500 stipend and book.
Goals
The goals of the new faculty learning community are to:
connect you with the WFU community, other new faculty, and the CAT as a support resource for your teaching.
enable you to establish a cross-disciplinary, cross-institutional network across the WFU campus.
encourage you to explore and adopt evidence-based practices that you feel will enhance student learning in your classes.
Requirements
To fulfill the NFLC requirements and receive the $500 stipend, you are expected to:
attend all scheduled meetings of the learning community (effort will be made to schedule meetings in alignment with participant schedules). The NFLC is expected to meet every other week each semester.
observe and debrief at least one of your colleagues' classes.
submit guided reflective activities throughout the program.
Application Process
Application details for the 2024 – 2025 NFLC's will be posted in late summer, early fall 2024.
Past Learning Communities
Peer-to-Peer Faculty Learning Community Initiative (Summer 2020)
Course (Re)Design Faculty Learning Community (Spring 2015, Summer 2016, Summer 2017, Summer 2018, Summer 2019)
First-Year Course Advising Faculty Learning Community (Fall 2019)
Curriculum Design and Assessment Faculty Learning Community (AY 2019-20)
First-Year Course Advising (Spring & Fall 2019)
Language Program Evaluation (AY 2018-19)
Technology & Multimedia Faculty Learning Community (Spring 2017)
Course (Re)Design (Spring 2015, Summer 2016; Summer 2017; Summer 2018; Summer 2019)
Blended Learning Faculty Learning Community (Fall 2015)
Study Abroad Faculty Learning Community (AY 2013-14)
Contemplative Pedagogy Faculty Learning Community (AY 2013-14; AY 2014-15; AY 2015-16)
ePortfolio Faculty Learning Community (Fall 2012)
New Faculty Learning Community (2011-present, annually)