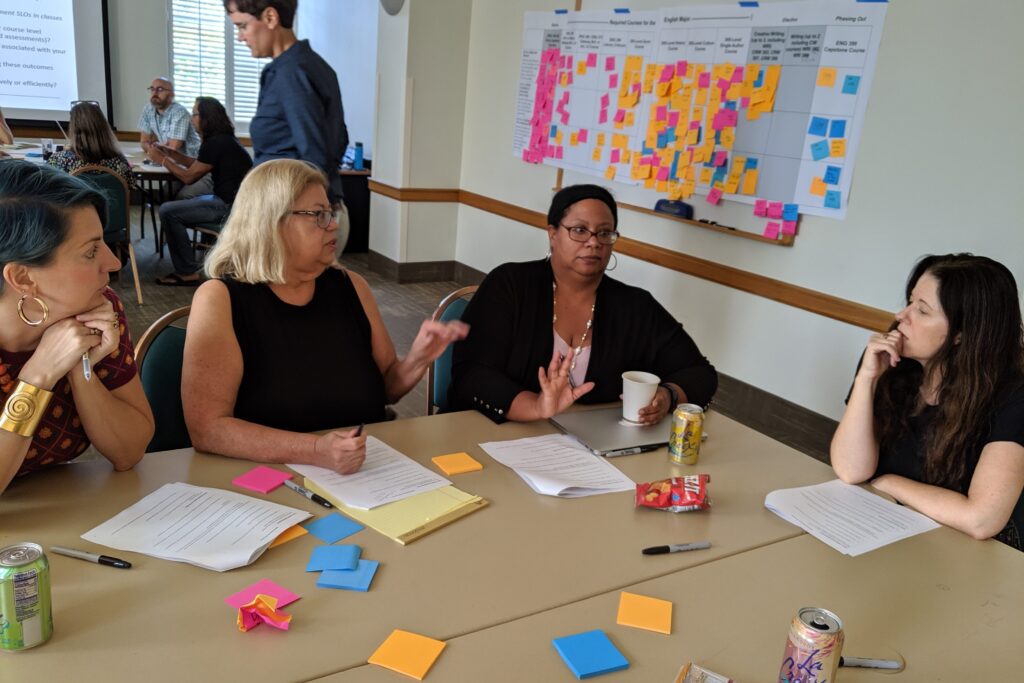 The CAT offers customized support to academic programs as they work on the development and revision of teaching and learning goals, student learning outcomes, curriculum, and student learning assessment. This work is collaborative, intensive, reflective, participatory, and iterative. In recent years, the CAT has supported the Schools of Business, Professional Studies, and Divinity, as well as over 30% of academic programs in the College and the College general education program. We offer a range of support options from simply providing resources and advice to programs wishing to do this work on their own, to a deeply embedded model with regular consultation and planning meetings, facilitation of meetings and retreats, and assistance with brainstorming and analysis.
Programs may seek support for a particular phase of this work or they may wish to start at the beginning and work through each phase over a number of semesters. If you are considering a comprehensive curriculum or assessment (re)design, we recommend an extended partnership with the CAT where we facilitate a series of events including retreats and meetings over multiple semesters. Given the size of our team, we are only able to provide intensive support for a handful of programs at a time. If you know you will be requesting our support in the next few years, we recommend letting us know as soon as possible to secure your spot. As with all of our work, the support we provide is advisory. We will share best practices and facilitate conversations, but the decisions that shape the substance of your plan will remain the responsibility of the program.
More information about curriculum development and student learning assessment, including a general introduction to the phases of the work, a self-reflection and readiness inventory, and detailed information about the elements that comprise curriculum and assessment, can be found by following the links in the menu [on the right]. Email Anita McCauley (mccaulak at wfu dot edu) if you want to begin a conversation about how the CAT can partner with you and/or your academic program to help you achieve your curriculum and learning assessment goals.